Kitchens with Urushi finished surfaces like hardwood countertops prove its functionality with its moisture regulating and water resistant qualities. Set aside its practicality, Urushi coated wood cabinets and countertops in a kitchen creates an inviting, personalized ambiance that has in the recent years been replaced by industrial materials such as stainless steel. Counter height is adjustable to accommodate proper height and space.
---
■

KITCHEN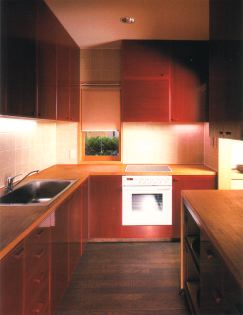 K-001 Kitchen Cabinets
[Ginshu Urushi Shin-nuri] finish
K-002

Urushi shin-nuri [Grey]

K-003

Urushi shin-nuri [White]

K-004

Urushi shin-nuri [vermilion gradation]

K-005

Urushi shin-nuri [Green gradation]
---
K-010 Cabinets Door Urushi shin-nuri [Mustard]

K-015 Range Hood [Forged copper]

Copyright(C)KISO-ARTECH.All rights reserved.